posted by
Justino Mora - Admin
on
Fri, 09/23/2011 - 16:46
Los Angeles - September 22, 2011- The California Dream Network, a project of the Coalition for Humane Immigrant Rights of Los Angeles, sent Governor Brown today stacks of petitions gathered on Change.org totaling 10,500 supporters of AB131, part two of the California Dream Act.  AB131 awaits the Governor's signature.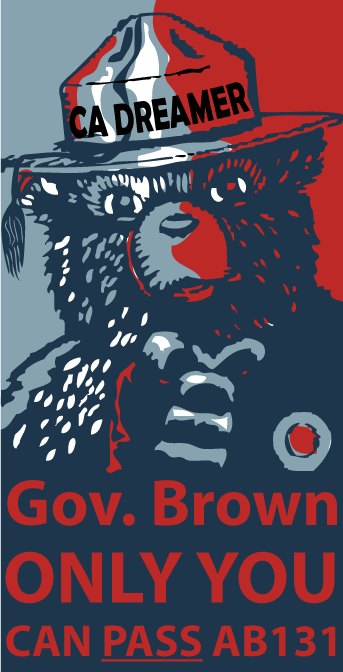 "California's most precious asset is its multicultural population.  An educated workforce represents a prosperous future for us all.  AB131 is representative of forward thinking, practical legislation, and wise investment.  We urge Governor Brown to sign this bill," stated Angelica Salas, executive director for the Coalition for Humane Immigrant Rights of Los Angeles.  And she added:  "Legislators in the California Senate and Assembly have evaluated the merits of AB131, and now it's the governor's turn to sign it into law.  The overwhelming support this bill has received is reflected in the thousands of signatures we are sending the governor's way."
Justino Mora, California Dream Network Steering Committee member and E-advocacy Organizer, was actively involved in the development of the petition and postings on Facebook and Twitter.  "A continued investment in the education of thousands of talented and determined AB540 students will provide the competitive edge that California needs to compete in today's increasingly globalized economy. It does not make any sense to shut the doors closed on tomorrow's aspiring doctors, lawyers, engineers, teachers, and business leaders when we can benefit from their talent."  Mr. Mora added:  "AB 131 is a common sense piece of legislation that should match Gov. Brown's vision to strengthen California's economy and shorten the expected gap of one million Bachelor's degrees by 2025."
CHIRLA and the CDN were successful in motivating thousands to sign the petition through the Change.org platform.  "We are thrilled to see the level of support that student advocates from the California Dream Network have received for their petition on Change.org calling on Governor Brown to sign AB 131 without delay," said Jackie Mahendra, Director of Organizing for Change.org. "With over 10,000 signatures, the students' campaign is among the most popular on our platform. These dedicated youth have shown through their organizing that the full California Dream Act is a cause worth fighting for, and we hope that the Governor is listening."
A petition in favor of AB131 for professionals has been set up and you can sign it here. 
View live signature totals from the first petition by the California Dream Network on Change.org.
By
Jorge-Mario Cabrera
Director of Communications
CHIRLA