posted by
rpreciado
on
Fri, 06/03/2011 - 15:36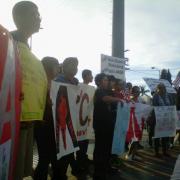 On Thursday June 2nd, students from the Los Angeles area gathered at the metro station near Los Angeles City College to participate in the "lighting the torch" campaign being led by the CA Dream Network. This campaign started in San Diego and will be making its way to Sacramento on July 21st. In every city that the torch stops, students, parents and family come together to speak about their stories, and about the importance of the CA Dream Act. In every city the torch is lit to represent that the fight will continue and that we won't let our dreams die.
The group was well received by people in the community and by the media as well. The afternoon began with information about the CA dream act, the network and the campaign itself. This was followed by powerful testimonies from, students both high school and college, by a household worker, and an immigrant rights organizer with many years of experience. After the testimonies everyone got closer together and began to chant in support of the CA Dream Act and the torch was lit. After the flame could be seen and felt, a march around the metro station took place, everyone was excited and happy to be a part of the event.
After the event was officially over people still stayed and continued to chant and speak in support of this bill. One of the most inspiring moments of the night was when Ricardo Muniz told his story and the deportation orders he is fighting against at the moment. Everyone was inspired to fight alongside Ricardo to help him stay in the country. You can also help Ricardo by signing this petition and sharing it with your friends. http://www.change.org/petitions/dreamer-fights-to-stay-in-the-us-ricardo-needs-your-help
Thank you for all those who came out to the event yesterday and watch out for next weeks torch lighting in the San Fernando Valley.