posted by
rpreciado
on
Fri, 04/29/2011 - 11:47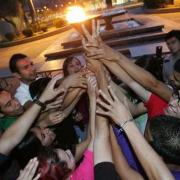 On Thursday April 28th, 2011 students from College of the Desert and members of the Coachella Valley community got together outside the cafeteria on the campus of College of the Desert to bring awareness about the CA Dream Act. The "lighting the torch" campaign was well received by the community and the excitement could be felt as the time to begin approached.
The event consisted of information regarding the legislation, ab130 and ab131 which together make up the CA Dream Act. Also given was a summary about the CA Dream Network and the work that we do statewide. The explanation of the campaign was given as well highlighting that this is only the 3rd stop so we have plenty of more communities left to visit.
Most important where the testimonies from students both undocumented and allies. It was an emotional evening as we heard from many people, tears were seen in the speakers and in the crowd but it was beautiful to sense the love that exist in this desert community which feels a lot like a family.
As the sun set and the pitch black of the desert night settled, the students gathered in a circle and chanted as the torch was lit. The fire was bright and the tears disappeared instead all you could see was optimism and hope.
Next week the lighting of the CA Dream Act torch will take place in the Inland Empire.