posted by
rpreciado
on
Fri, 05/13/2011 - 15:45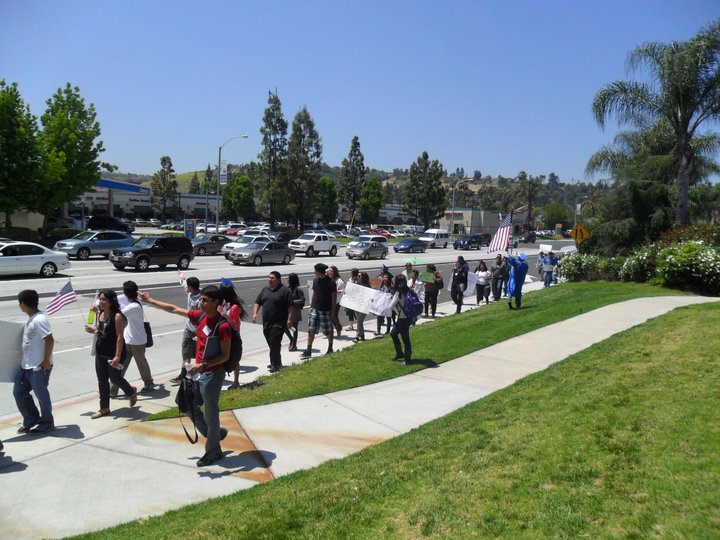 On Thursday May 12th, 2011 students from the Foothill Dream Network got together on the campus of Mt. San Antonio College to learn about the CA Dream Act, to share testimonies but most importantly to make noise in the community and garner support for the CA Dream Act.
The event began with a large circle in the free speech area of campus.  The circle was a space to spread information and share testimonies, some of the speakers included the nephew of Asmb Marco Antonio Firebaugh the author of ab540, and former CA Dream Network organizer Maria Rodriguez who is just returning from vacation. After the testimonies were given the torch ceremony took place and the flame light stronger than at any other event, it seems that every time the torch is passed the fire grows.
The program was great but what made this action different from others was that after the program a march and lobby visit took place. The group of about 80 people marched from Mt. Sac to the offices of Republican Senator Bob Huff which were nearby. The sight of the group taking over the corners nearby Senator Huff's office was very powerful and passerby's signed the petition in support of the CA Dream Act, while others honked their horns as they passed by. The group rallied outside until the contingency of students who went inside for the lobby visit returned. Senator Huff's office definitely felt the pressure from student groups calling police to be present outside including a helicopter. Luckily the event was a peaceful one and no problems arose.
When the group returned from Senator Huff's office their message was that Senator Huff was not supportive for many reasons but primarily because he had received many calls from people in the area asking him to vote against any pro-immigrant legislation. Right then and there the group took out their phones and began to make calls, and they vowed to continue making calls not just to Senator Huff but to other representatives as well.
The Foothill Dream Network has set the bar high for future actions. Thanks to everyone who was present.