posted by
rpreciado
on
Mon, 06/27/2011 - 11:56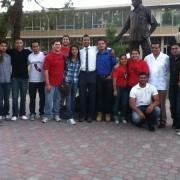 Fresno, California. June 23, 2011- "Si se puede! Si se puede!" was the chant of hundreds of students, faculty, and community members gathered at Cal State University Fresno in support of the Light The Torch Across California Campaign. The supporters had a very good reason to be optimistic since Assembly Bill 131 was approved by the California State Senate Education Committee just a day prior. Under AB 131, the second part of the California Dream Act, qualified undocumented students and other eligible students would be able to apply for and participate in all student financial aid programs administered by the state. Due to the continued effort of thousands across the state AB 131 was able to clear this obstacle and the California Dream Act is slowly becoming a reality.
Raul Moreno, Coordinator of the University's Migrant Services, expressed his happiness at the momentum of the Dream movement. He noted that this significant piece of legislation would greatly benefit the 300 plus Fresno State students that struggle to pay full tuition every semester. But even without the Dream Act, Raul has for years helped students graduate from Fresno State and mentored them in achieving their professional goals. Many of his students have gone on to become successful entrepreneurs, business owners, and consultants proving once more that the title of "undocumented" does not reflect the worth and capacity of an individual.
As the torch was lit the enthusiasm of the crowd was overwhelming and the Dream Torch burned brighter than ever before. Everyone sang multiple joyous songs and later they prayed in unison for the lives and well-being of immigrants across the nation. In the middle of it all was the statue of a man who was a champion of immigrant and civil rights, César Chávez. Standing on top of a plowed field, he held his arm out with a diploma in hand and many students posed opposite to him receiving that diploma. This symbolic gesture was inspiring to say the least. The hard farm labor of immigrant parents has allowed their children to go to college despite their limited opportunities and resources. And similarly, just like César Chávez, activists have continually mobilized the community and pressured the state government so that undocumented immigrants can enjoy equality in all social aspects, including public education.
Your support can make a difference in these crucial final weeks. A simple call to State Senator Darrell Steinberg can ensure the CA Dream Act becomes a reality. He is a key legislator and can be reached at: Capitol Phone (916) 651-4006 or District Phone (916) 651-1529. Your voice can help thousands of students achieve their dreams.
Written by Mario Castillo