posted by
rpreciado
on
Wed, 04/20/2011 - 15:28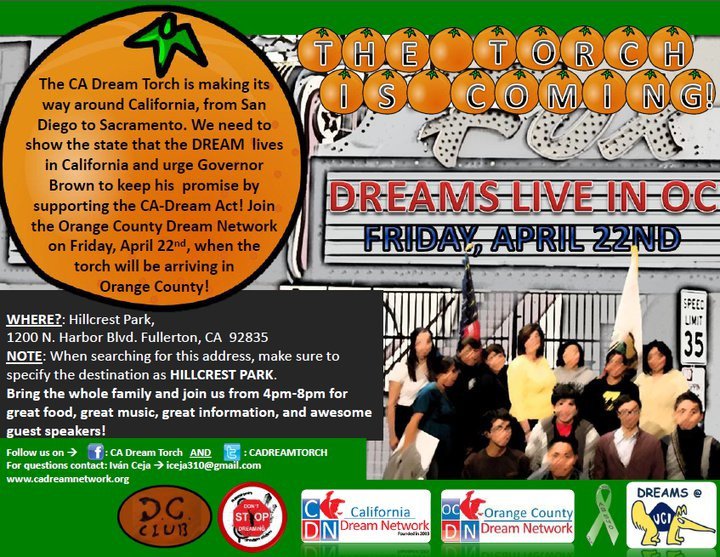 The CA Dream Torch is making its way around California, from San Diego to Sacramento. We need to show the state that the DREAM lives in California and urge Governor Brown to keep his promise by supporting the CA-Dream Act! Join us on Friday, April 22nd, when the torch will be arriving in Orange County!
We will be lighting the torch in the city of  Anabeim, in PIONEER PARK.. Pioneer Park is located  2565 E. Underhill Avenue Anaheim, CA 92806
Spread the word about this event! Anyone is welcome! We will also be fundraising for scholarships that will be presented to AB 540 students to fund their education, all of your support is greatly appreciated!
Bring the whole family and have a picnic. Join us for great food, great music, great information, and awesome guest speakers!
NOTE: When searching for this address, make sure to specify the destination as Pioneer Park. Also, please spread the word!
TRANSPORTATION: Transportation will be provided from the CHIRLA office in Los Angeles leaving at 2:30 pm. If you are in Los Angeles and are interested please email me to let me know. However, transportation is limited so let me know ASAP.
For any questions contact: Iván Ceja - (310) 748-3056 - [email protected]