posted by
rpreciado
on
Mon, 05/09/2011 - 11:06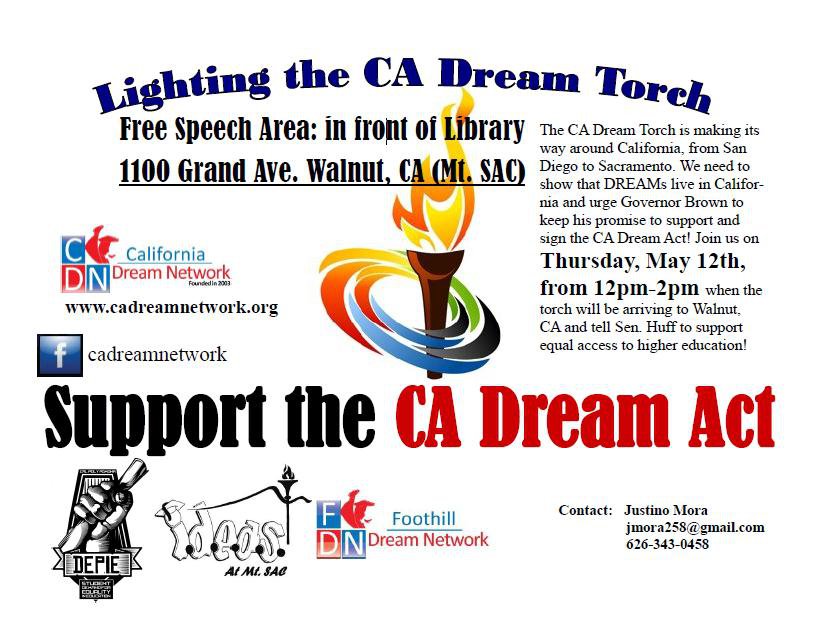 The CA Dream Torch is making its way around California, from San Diego to Sacramento. We need to show that DREAMs live in California and urge Governor Brown to keep his promise to support and sign the CA-Dream Act! Join us on Thursday, May 12th, when the torch will be arriving to Walnut, CA!
We will be lighting the torch at Mt. San Antonio College in front of the library. We need to urge our local elected officials to support the CA-Dream Act, stand up for their constituents in Senate District 29th (which includes the cities of Pomona, Walnut, Glendora, etc...), and support equal access to higher education. 
Spread the word about this event! Anyone is welcome! We will also be fundraising for scholarships that will be presented to AB 540 students to fund their education, all of your support is greatly appreciated!
Bring the whole family, friends, classmates, and professors. Join us for great information and awesome guest speakers! 
PARKING: if you are NOT a Mt. SAC student you NEED to pay $3 dollars for a daily parking pass. Park on Student Parking Lot B or Student Parking Lot A. You can also park on Pay Lot B. CAMPUS MAP: http://www.mtsac.edu/maps/
TRANSPORTATION: Transportation will be provided from the CHIRLA office in Los Angeles. Transportation is leaving CHIRLA at 10:30am. If you have questions email Raul at [email protected] 
However, transportation is limited so let us know ASAP.
For any questions contact: Justino Mora - (626) 343-0458 - [email protected]