posted by
Admin
on
Thu, 07/26/2012 - 14:13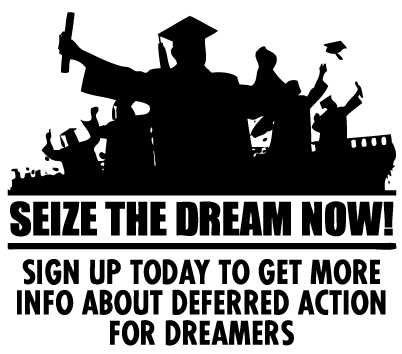 On June 15, 2012, President Obama announced that young immigrants who entered the country without authorization before the age of 16 can qualify for an immigration relief benefit known as "Deferred Action".  An applicant who is granted deferred action will not be deported and qualifies for a work permit renewable every two years.
We urge you to:
Requirements:
The announcement sets forth five criteria to receive deferred action:
Were under the age of 31 as of June 15, 2012;
 
Came to the United States before reaching your 16th birthday;
 
Have continuously resided in the United States since June 15, 2007, up to the present time;  
 
Were physically present in the United States on June 15, 2012, and at the time of making your request for consideration of deferred action with USCIS;
 
Entered without inspection before June 15, 2012, or your lawful immigration status expired as of June 15, 2012;
 
Are currently in school, have graduated or obtained a certificate of completion from high school, have obtained a general education development (GED) certificate, or are an honorably discharged veteran of the Coast Guard or Armed Forces of the United States; and
 
Have not been convicted of a felony, significant misdemeanor, three or more other misdemeanors, and do not otherwise pose a threat to national security or public safety.
In this packet, you will find additional information about the Deferred Action Announcement, criteria, and what you can do next.  Secretary Janet Napolitano's initial memo also clarifies that youth who are detained or in deportation proceedings should immediately request this benefit.
No further details have been released by USCIS, the office in charge of this type of immigration procedures.  
Please do not submit any paperwork ahead of time.  Do not be duped.  The date to begin applying for this benefit will most likely be August 15th, 2012. (Sign up for our newsletter and email updates so we can send you the latest information).
 
In the meantime, please review the information on this page and call CHIRLA if you have additional questions:  (888) 624-4752. As CHIRLA's statewide youth branch, we have been organizing free informational activties for the community.  Call and ask about the next activity near you.
Please share this information with others.