posted by
Angel Silva
on
Thu, 07/12/2012 - 15:13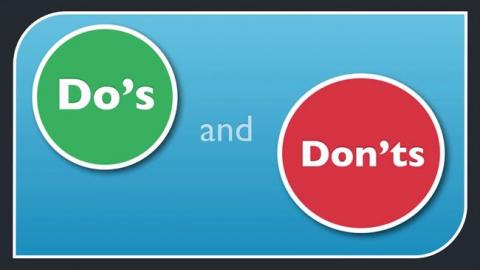 Over the past few days, we've heard a lot of questions on the Deferred Action for Dreamers (DAD) proposal, and there's a great deal of confusion as to what to do while we wait for more details. Here are some pointers to prepare you for when the application date becomes available.
DO get a copy of all important records.
One of the requirements to qualify for DAD is to have lived in the U.S. continuously for at least five years as of June 15, 2012.
Documents that can prove that you've lived in the U.S. for that long include school records, immunizations records, basically anything official that has your information and the date on it.
Another requirement states that applicants have not committed any felonies, significant misdemeanors, or multiple misdemeanors. If in doubt, make sure to obtain a copy of your criminal record BEFORE submitting your application in order to tell whether you have offenses that can prevent you from being eligible. If you have any doubts about your criminal record, the Coalition for Humane Immigrant Rights of Los Angeles (CHIRLA) can refer you to a legitimate, low-cost immigration attorney to discuss your situation.
DO finish school.
Those interested in applying for DAD must have graduated high school or have a General Education Development (GED) certificate. If you're currently in high school, finish and get a diploma; if you're in the process of obtaining a GED, make sure to finish and obtain that GED.
If you're at least 15 years of age and qualify, DO apply.
The application calls for a high school diploma, but if you're 15 and qualify you can still apply while still in school, and as long as you remain in school.
DO start saving money.
Although the cost for applying for DAD has not been set, we're guesstimating it will be around $500 to $1,000, making it important to start setting aside money for the application.
For a rough estimate, consider the application for Temporary Protected Status – it's $515 for first-time applicants between the ages of 14 to 65. The cost to apply for naturalization (Application N-400) adds up to $680. It's very likely that the cost for DAD will be similar to the costs of these processes, if not higher.
DON'T apply or submit anything at this time.
The initiative is not in effect yet, and the date to apply has not been set by USCIS, the government's branch in charge of this benefit.  We expect the application submission process to begin sometime in mid-August, most likely around August 15 or a few days afterwards. USCIS has stated that any applications sent in now will be revoked until the date is released.
DON'T give anyone money who claims that they can file your application.
Be cautious and do not give money or commit to any financial contract with anyone to fill out your Deferred Action application – the actual application has not been released and anyone claiming that they can fill out your forms now for a fee is a scam.
Community organizations throughout your area will become available to help you complete your application and help you through the process, including follow up, for a minimum fee once the process has officially been announced by USCIS. There will be no need for anyone to spend too much money to receive quality service.
If you have questions, DO get informed.
CHIRLA is a great place to contact if you have any questions regarding Deferred Action for Dreamers (DAD). You can reach them at (888) 624-4752.  Don't be shy to leave a message.  All your information is kept strictly confidential.
Another way to get informed is to participate in a biweekly webinar held by the California Dream Network (CDN) and CHIRLA, Wednesdays at 9 p.m. (in English) and Thursdays at 9 p.m. (in Spanish). You must register at https://attendee.gotowebinar.com/542lr/rt/7344126688178718976.
For more information, visit the CHIRLA website at http://www.chirla.org/ and the CDN website at http://www.californiadreamnetwork.org/ . You can also subscribe to the CA Dream network newsletter for updates at http://www.cadreamnetwork.org/subscribe .