posted by
Justino Mora - Admin
on
Mon, 09/10/2012 - 15:54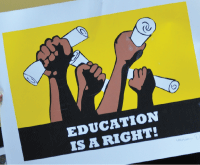 We invite you to participate in a statewide on-line survey exploring Undocumented Latina/o Student Motivation towards higher education.
 
Your participation is very important. The information you provide can help others better meet your needs and the needs of students like you.
Requirements to participate in the on-line survey:
Born outside of the United States
Have been undocumented for part or most of your education in the U.S.
18 years of age or older
Reside in California
Latina/o
Attending a college or university in California. If you are NOT currently enrolled, you may also take the survey if you are planning to return to complete your education.
Your identity will remain anonymous. To complete the on-line survey, please click here.
Part of the funding for this survey will be used toward a scholarship. Applications for the scholarship will be made available through CHIRLA and California Dream Act Network.
If you have any questions, comments, or concerns, please contact:
E. Lorena Navarro at [email protected]
Principal Investigator & Doctoral Student at New Mexico State University