posted by
Justino Mora - Admin
on
Fri, 06/15/2012 - 15:10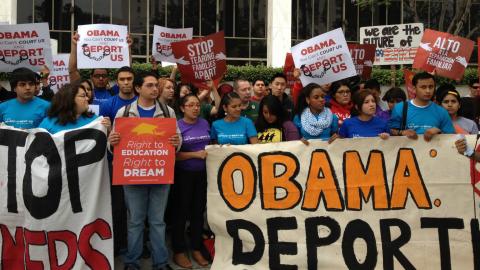 Summary of Directive to Provide Prosecutorial Discretion to Dreamers
On June 15, 2012, the Department of Homeland Security (DHS) released a third memo in accordance to its outgoing effort to exercise prosecutorial discretion.  Prosecutorial discretion is a law enforcement tool that allows immigration authorities to close or decide not to prosecute cases that are a low priority and to devote resources to cases that fall within DHS's highest enforcement priorities.
In this third memo, DHS's Secretary Jane Napolitano has instructed Immigration and Custom Enforcement (ICE), Customs and Border Protection (CBP) and U.S Citizenship and Immigration Services (USCIS) to use prosecutorial discretion when encountering young adults that satisfied the following criteria:
Came to the United States under the age of sixteen;
Continuously resided in the United States for a least five years preceding the date of
Currently in school, has graduated from high school, has obtained a general education
Development certificate, or is an honorably discharged veteran of the Coast Guard or
Armed Forces of the United States;
Not convicted of a felony offense, a significant misdemeanor offense, multiple misdemeanor offenses, or otherwise poses a threat to national security or public safety;
Not above the age of thirty.
In addition to halting the deportations of individuals that are currently in removal proceedings, these qualified individuals, Dreamers, may be granted deferred action and potentially provide an opportunity to obtain a work permit for two-years.
This process is in effect immediately for individuals in detention or removal proceedings. For non-removal cases the process will begin within 60 to 90 days. This is not a new visa program or category and each case will be determined on individual basis.
For more information contact CHIRLA at 1-888-6 CHIRLA or Myrna Ortiz, Statewide Youth Organizer, at [email protected]
A felony is a federal, state, or local criminal offense punishable by imprisonment for a term exceeding one year. A significant misdemeanor is a federal, state, or local criminal offense punishable by no more than one year of imprisonment or even no imprisonment that involves: violence, threats, or assault, including domestic violence; sexual abuse or exploitation; burglary, larceny, or fraud; driving under the influence of alcohol or drugs; obstruction of justice or bribery; unlawful flight from arrest, prosecution, or the scene of an accident; unlawful possession or use of a firearm; drug distribution or trafficking; or unlawful possession of drugs.